Our fundraiser style cookbooks are a great way for your organization to raise money with a unique and personal product. The fundraisers styles are a little different from our personal binding styles. They are slightly smaller (approximately 5.5"x 8.5"), and are printed on a 60 lb paper stock to provide for the best value for large orders while still providing a very high quality product. Unlike personal styles, fundraiser styles have a minimum order quantity of 100 books.
Here's how it works:
Create your fundraiser page

Collect recipes and add them to your book

Customize & personalize your design

Review your proofs & order

Sell your cookbooks & reorder
Creating Your Fundraiser Page:
You will create a page on our site with information about your fundraiser project that you can share with others. If you want, anyone who visits the site can contribute their own recipes for the book or sign up to purchase a book so you know how many to order. You can customize which functions are available in the Settings menu. Click the "edit book" button in the Admin Menu to create your cookbook.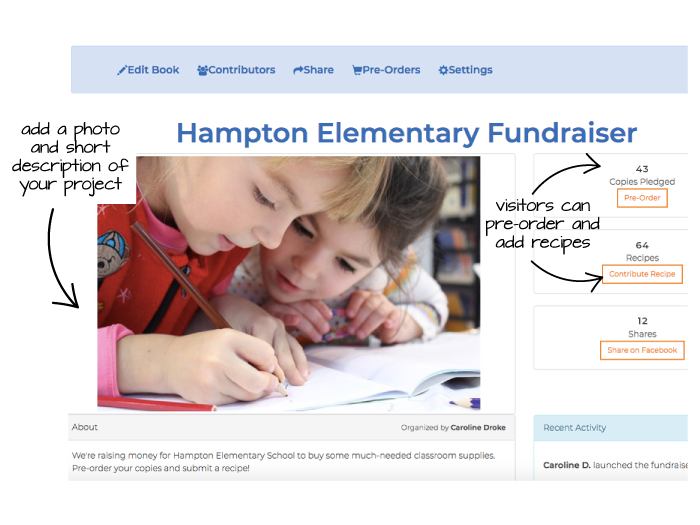 Collecting and Adding Recipes:
Use the share tool to post on Facebook, or send an email with your project page's link to share your fundraiser page. Visitors can contribute recipes, but they won't be added to your project until you approve the submissions.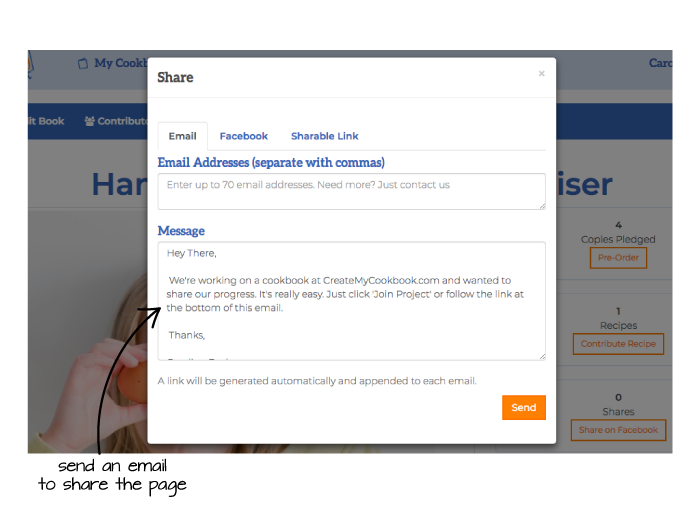 Recipes that are contributed by others will appear in your online "recipe box". You can also add your own recipes by clicking the "add recipe" button inside the recipe box. Once all of your recipes are entered, you can create recipe pages and section dividers all at once. Just select your recipes and click "batch actions" to add new pages. Tip: Label each recipe with a category so they are easy to organize in your book.
Customizing Your Design:
There are a lot of great ways to add your own touches to your cookbook. You can add your own photos (or choose from millions of stock photos), edit fonts, add stories and customize your cover. To edit an existing page, click the button with the pencil icon next to the page. To add a new page, click the blue button with a plus sign, select where you want the page, and then pick the page type from the drop-down menu.
Fundraiser Pricing:
The price of your fundraiser is based on the number of black & white and color pages, and the order quantity. To learn more about our binding styles and to calculate your book cost, visit our fundraiser pricing page.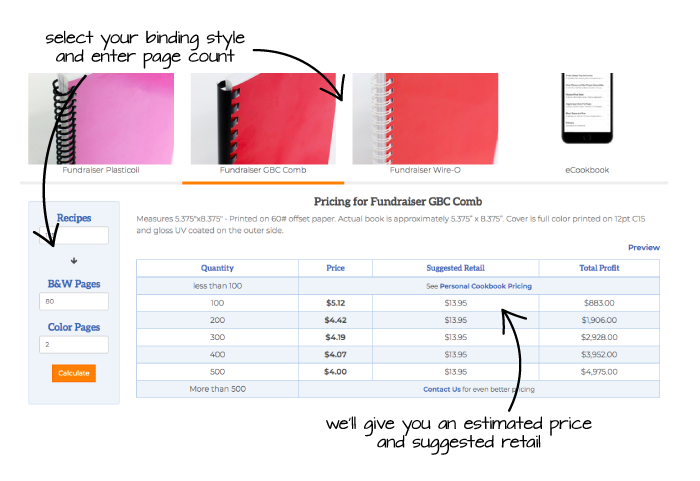 Review Your Proofs & Order:
Once you're finished designing your book, you will be able to order a single proof copy before placing your large order.
Fundraiser cookbooks are produced outside of our usual workflow. To be safe, we encourage you to allow about 3 weeks from the time your order is placed before you will receive your cookbooks. However, we are often able to produce orders quicker than that. Make sure you check out our shipping page for up-to-date shipping timeframes and freight charges.
When you're finished designing your book and you're ready to place your order, it's time to review your print-ready proofs. These PDF files give you the most accurate picture of how the actual book will look. Click "Preview & Order" in the blue toolbar at the top of the page to get started.
Selling Your Cookbooks & Reordering:
Once you receive the books from us, it's time to raise money for your organization! Collect payments and distribute your cookbooks to your customers. If you sell all of your cookbooks and want to order more, you can always come back and place another order with a minimum quantity of 100.
We hope your fundraiser is a success! Feel free to reach out if you have any questions.