To change the front and back Cover Photo of your book, you'll need to bring up the Edit
Cover dialog. Just flip to your front or back cover. You can do so quickly by clicking on the double arrows in the page controls at the bottom of the screen. Then just click the "Edit Page" button (a pencil).
Once the Edit Page Dialog has appeared, you'll see a tabs for Picture, Text, and Style. You can select the photo you want to appear as the cover photo in the Picture tab. Simply highlighting the photo you wish to use will tell our software to use that photo. Hit save and you'll be on your way.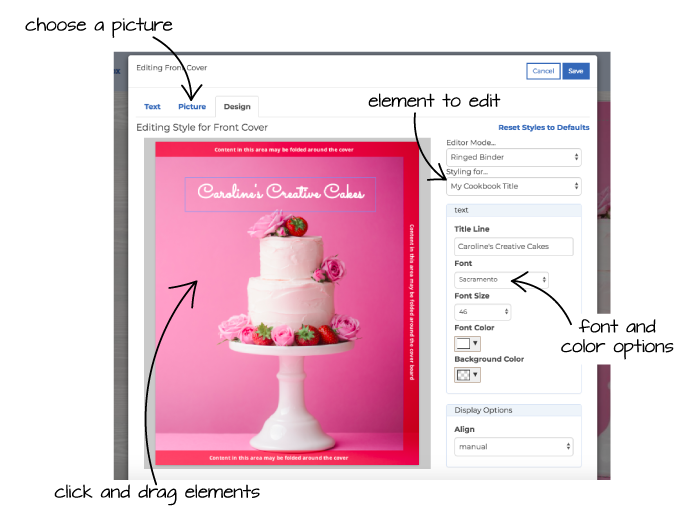 Most of the cover design can be done on the "Style" tab once you have selected your photo. Change the font, background, color, and size. The "checker-board" color is transparent by the way.
If you are not finding our cover options sufficient for adding text, you can use our photo editor further edit your photo.
Update: Books created after August 20, 2016 can take advantage of movable text and resizable photos on the cover pages. Simply drag the text to the position on the cover you like. Photos can be moved and resized as well. Make sure nothing critical is outside the crop margin (dotted red line).
Since our covers are printed full bleed, photos are scaled to take up the entire photo. If you have a landscape photo, the sides will be cut off. In that case, you may want to add a background color to create a border around the top and bottom or resize the photo so there is a border all the way around it.
Select "Background Color" from the "styling for" drop-down menu, and use the color picker to select the color you want. Be sure to save your changes.
Bonus tip: Check out - How to resize your photos on a recipe page:
Bonus tip: Check out - How to create a custom bridal cover in minutes: