Reviewing your print ready files is an important part of the process. During the review process, you have the opportunity to view your book as it will be published. This will be the time to catch issues pertaining to spelling, grammar, photo quality, etc...
In order to create your print ready files, click on the Preview & Order button to select the binding style and paper options. Once the process is done, you will be given the opportunity to review and approve the final proofs for each binding style you prepared as well as any warnings associated.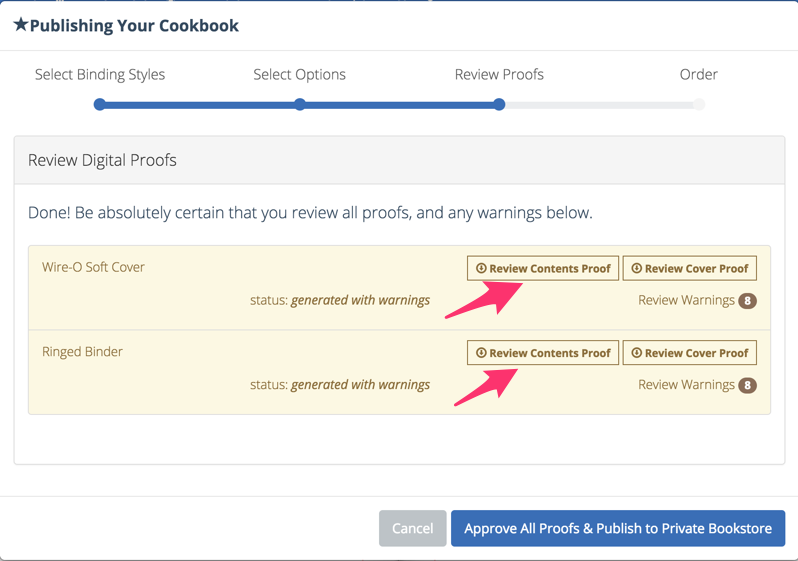 If everything looks good and you're happy with your proofs, click "Approve All Proofs & Publish to Private Bookstore" to proceed to the order page.
If you find errors in the book or decide to make changes, click "cancel" to go back into the designer and make the changes. For the changes to take effect, the print ready files must be updated so you'll need to re-create them by going through the process described above. Once your book is all in order, approve your proofs and head to your "Private Bookstore". Select how many books you want of each binding style and also select your shipping method.
Making Changes After You Approve Proofs and/or Order
You can continue to make changes at any time to your cookbook. Just make sure you approve the latest set of proofs before ordering again. Only approved proofs will be printed, and if you don't approve again, we'll wind up printing the last approved version of your book, and your changes might not be included.