You can invite friends and family to contribute recipes and photos to your project. To do this, click on the "Contributors" button to bring up the invitation dialog.
Get a Contributor Link
You can share a link with people that will allow them to submit recipes to your Recipe Box, and photos to your gallery. When a new contributor submits a recipe, you'll get a notification, and you can approve (or deny) that contributor from submitting recipes to your recipe box.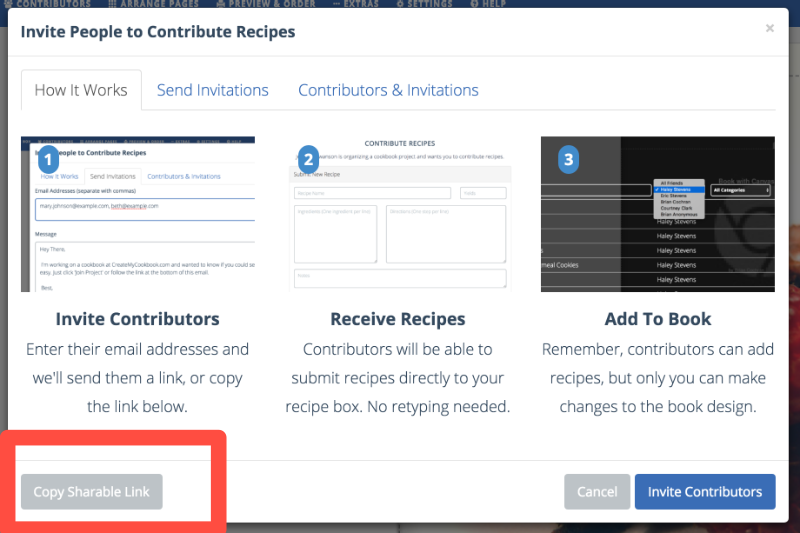 Sending Invitations By Email
You can also send invitations directly from the cookbook designer. Just click on the "Contributor" menu option, and "Send Invitations" tab. Type in the email addresses for everyone you'd like to invite. Remember to separate all of the email addresses with a comma (",").
Once you've entered your email addresses, you can modify the default message below that to personalize your message to your invitees. You might want to give them a due date if you're working on a gift for a certain occasion.
When your message is done, click on Send Invitations. You'll get a verification message that your emails have been sent.
If you realize you want to invite more people later on, just repeat the process with your new invitees.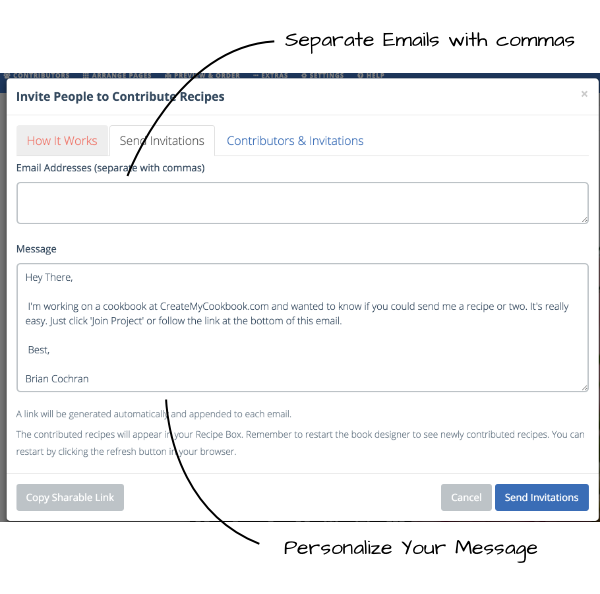 When they accept the email invite, they'll join the cookbook project to add recipes and photos. Contributors are not able to view or edit the book in the designer, they can only add recipes and photos.
Here's the screen they will see: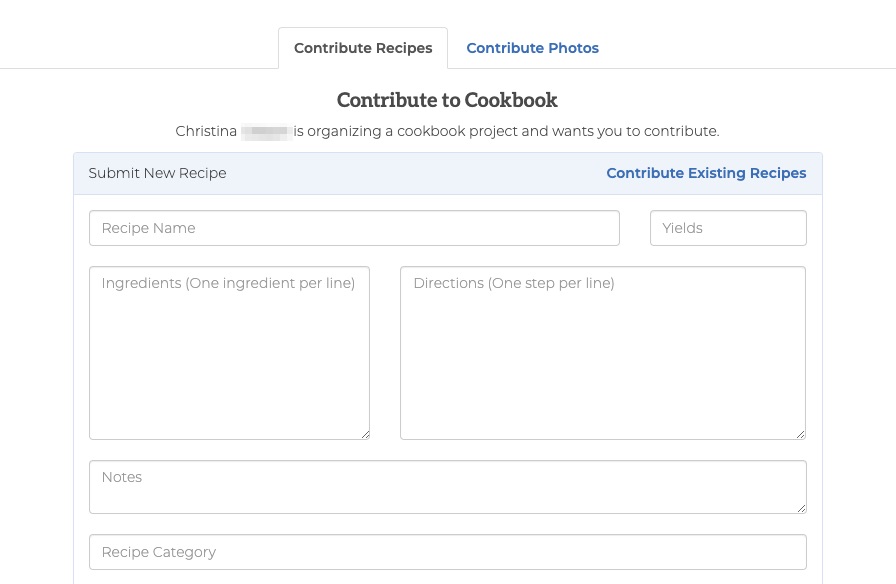 Once they contribute recipes, you will see them available in your Recipe Box, where you can add them to your book. Click here to learn more about using your Recipe Box.
Contributed Photos
Contributors can now add photos to your cookbook too! Any contributed photos will appear in the "gallery" in the designer as you work on your cookbook. Click the edit button next to the cover or a photo page and go to the "picture" tab. You'll see the contributor's name above each photo.