Our WeTypeIt feature lets you submit photos of your recipe cards so we can type them for you. You can access WeTypeIt directly from the "My Cookbooks" page, or as one of the options in your recipe box under 'Add Recipe'.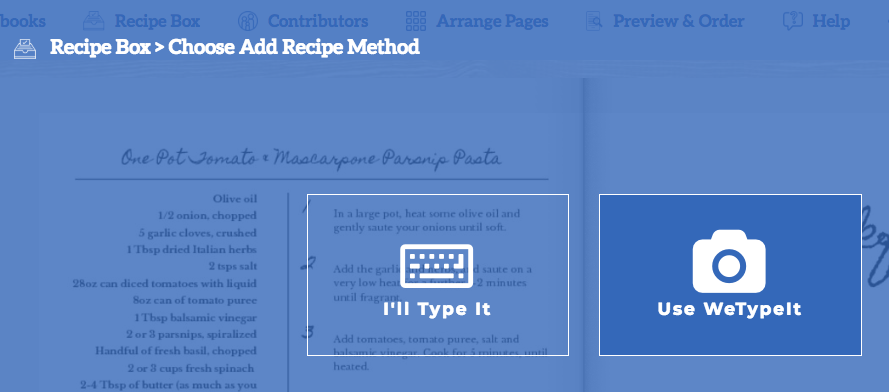 Upload Recipe Card Scans/Photos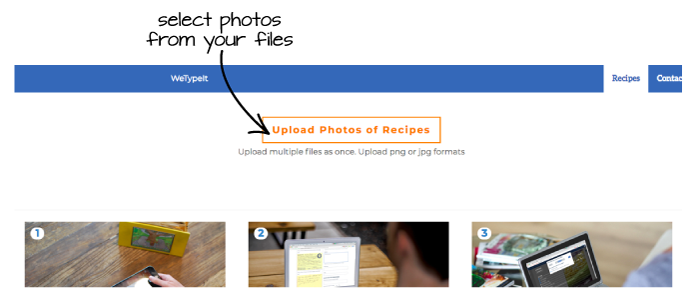 You may upload multiple photos at a time or one at a time (if you are using your smartphone, you can take pictures directly using the camera).
Make sure:
The entire recipe is in the photo
There's only one recipe per photo
The photo is not blurry
Rotate and Name Recipes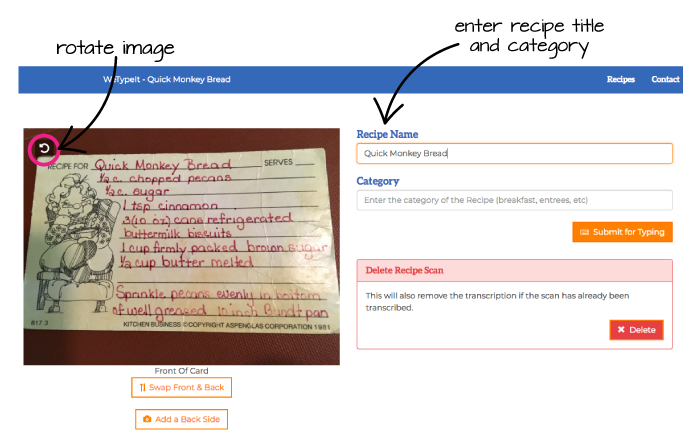 Once your upload is complete you will:
Rotate the image (if needed) to make it readable by clicking on the icon in the upper left corner of the photo
Add the Recipe Name
You may also add a Category if you like (useful if you plan to add recipes from your recipe box to your cookbook by category)
Purchasing and Using Credits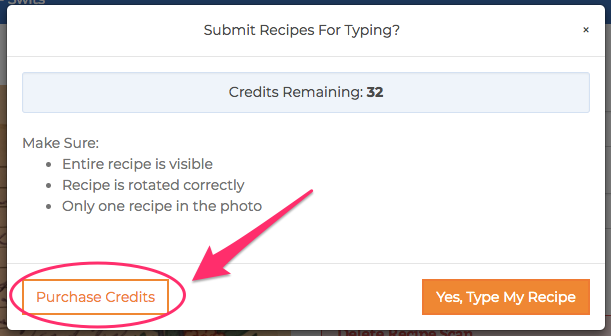 Every time you submit a recipe for us to type you use 1 recipe credit. You can purchase credits once you've run out OR preemptively as you upload recipe photos.
Once you've purchased recipe credits, head back to WeTypeIt and continue submitting recipes.
Add Back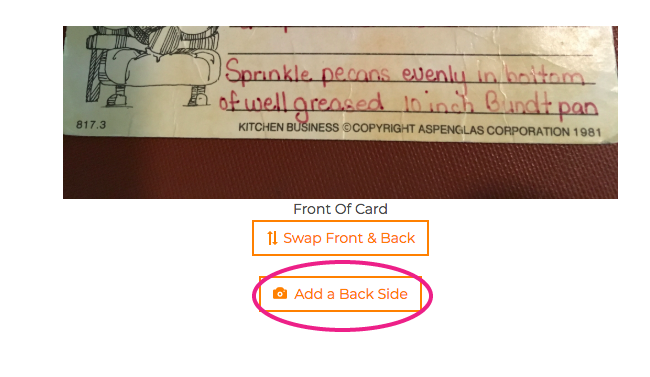 If there is a back side (or second page) to your recipe card, click 'Add a Back Side'
Recipe Status
There are three different WeTypeIt statuses your recipe may have
| Status | Description |
| --- | --- |
| Submitted | The recipe is in the process of being typed up |
| Unsubmitted | Your recipe photo was uploaded but you have not submitted it for typing |
| Canceled | There was a problem with your recipe photo (such as a blurry resolution or more than one recipe in the photo) so your submission was canceled. Your credit will be reissued to your account and then you will need to delete and resubmit your recipe. |
When we've finished typing your recipe, you will receive an email that it is ready for your cookbook in your recipe box. Typed recipes can be viewed or edited in the Recipe Box- just click on the recipe name.
Once all of your recipes are typed up, you'll receive an email. You will be required to review the recipe for accuracy, make any necessary edits, and give your transcription a rating. Then, you can add your recipes as recipe pages in your book using the "batch actions" button. Check out the article on using your Recipe Box for more information.
Check out this quick tutorial: