To be added to your cookbook, all of your photo files should be in a JPEG format. You can tell by their file extension ".jpg". If you are scanning or editing images, they should also have a resolution of 300dpi. You'll see a resolution warning as you edit your book if the resolution of your image is too low to print clearly.
You can upload photos from any page where a photo can be placed. You can add photos to certain page layouts, including the title page, section dividers, and some recipe pages and story pages. You can also add your own images to the front and back cover. To upload a photo, click the "edit" button and head to the "Picture" tab*.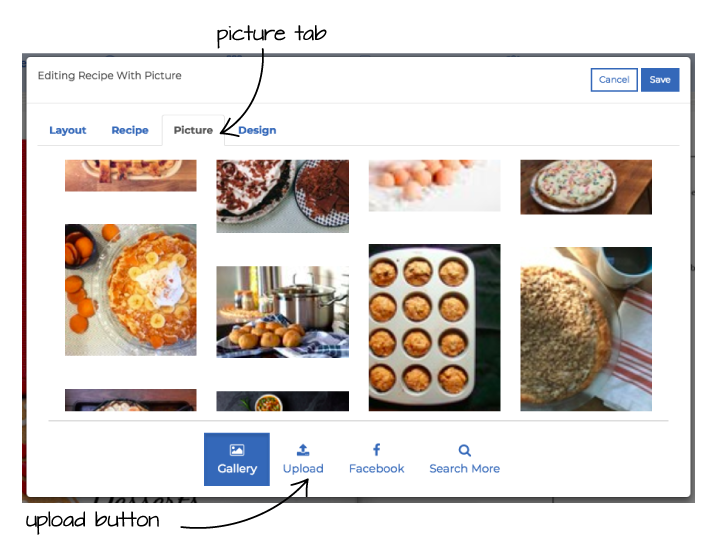 You'll see an "Upload" Button. Click on it and a file explorer window comes up so you can locate your files on your computer. Once you've selected the photos you wish to upload, click on the "Open" button and you should then see status bars appear for your selected photos. Once the uploading has finished, you should see your picture(s) appear in your photo gallery. Click on it, and an orange border will appear indicating it is selected. You also have access to millions of stock photos that can be added to your cookbook.
*Don't see a picture tab? You'll need to change the page layout to one that allows a photo. Go to the "layout" tab to see your options.
Need more help? Here's a video tutorial: